Alumni Spotlight: Bruno Grigoletti
Michelle Yawger, Features Editor
November 21, 2017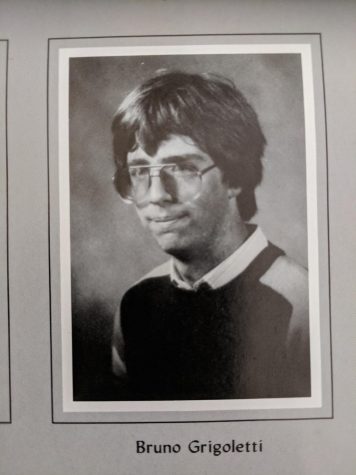 As graduate of the Warren Hills Class of 1986, Bruno Grigoletti has attained a life full of childhood dreams as a novelist and owner of his very own company, The Wolf's Den.
As a Warren Hills alumnus, Grigoletti is appreciative of his high school experiences.
"It helped shaped me into the person I am today, no doubt," Grigoletti said.
Originally, Grigoletti did not follow a path to his true passions. After reminding his kids to follow their dreams, he was reminded as well.
"I was telling my girls that they could do anything that they put their minds to and worked hard at.  Almost anything was possible if you fight for it," Grigoletti reminded his daughters.
Then, in response to her father's encouraging words, one of his daughters asked Grigoletti why he gave up writing.
After a ten-year hiatus, Grigoletti began to write again. His two published books, The Soul Patrol and Five Against One, were inspired by his daughters.
"They wanted a spooky story from their dad that could be enjoyed while they were still young," said Grigoletti.
Both books, as well as a spin-off of The Soul Patrol, B.F.F., are targeted towards young audiences, in contrast to most of Grigoletti's previous work that was aimed at adults.
The Soul Patrol, Grigoletti's first published piece, lets readers view the journey of two sisters from Massachusetts, Caitlin and Nicole O'Connor, following their friend's death.
After solving the mystery and uncovering secrets, the characters of The Soul Patrol return to readers in Grigoletti's second book of the series, Five Against One. Although their previous conflicts were resolved, Caitlin and Nicole find themselves in more trouble.
"The second book deals with bullying.  Not just any type of bully, but the kind who just wants to be mean and destructive because they like it," said Grigoletti.
Now Caitlin finds herself in a rivalry with another girl, Savannah Summers, and many choices to make.
The life lessons taught through reading Grigoletti's books is what's so special about them. Young readers can easily relate to the characters and their predicaments.
A common theme in Grigoletti's creations is his passion for them. Like his books, Grigoletti enjoys working for his own company, The Wolf's Den.
"It is a small media company that produces a podcast, 'Live Inside the Wolf's Den' and a video blog, 'What's It Really Worth,'" said Grigoletti.
Grigoletti said both shows consist of and relate to Geek Culture, news and gaming reviews.
Live Inside the Wolf's Den features comic writers, artists, game designers, and more, while 'What's It Really Worth' presents debates on values of popular board games.
"Our show will hopefully help the viewers decide where it's best to spend their money to get the most bang for their buck," said Grigoletti.
Grigoletti's work is not over yet, though. He plans to write more and continue to pursue his passions.  For current students, he recommends:
"Listen, learn and believe.  Take the support for your dreams and vision from those who are gracious and caring enough to spend the time to instruct you on how to succeed."