Patricia Teaches Film and Compassion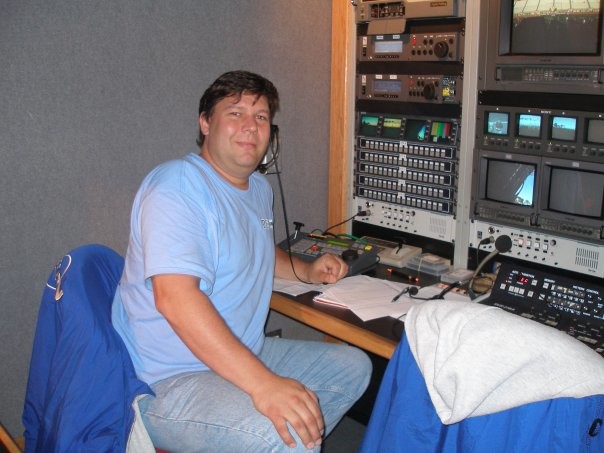 Richard Patricia has inspired his students with the art of film, radio and television for 23 years. 
Patricia worked in the media industry for years, as a freelancer and employee for many companies, a few being ESPN, CNBC and as a DJ for Q-100 in Pennsylvania. 
"I'm a sports camera operator, I've directed; I've done everything in that field that I could have ever wanted," said Patricia.
Ready to start a family and stop traveling, Patricia said he turned to teaching in the field he loved. 
"I was out one night with my wife and I overheard someone say there was a teaching position at another high school for radio and television production," Patricia said. "It was the best move I could ever make."
Patricia has taught at Hills for about seven years now and is thankful for the experience. 
"The folks at Warren Hills are just incredible people, every single one of them from the administration down to the students," he said. "That was evident during one of the roughest moments of my life, dealing with the loss of my son." 
Patricia said the communication component of teaching helped through his hardest times, an experience that many people behind a desk all day miss. 
"I remember seeing some students in the hallways and you would smile at me and say, 'Hey, how are you doing today, how's your day going?'" he said. "Those are the things that a lot of people in other fields don't get to experience. I'm really lucky to be where I'm at right now."
Patricia said he has been inspired in his career by good teachers in his grade and high school experience.
"I've had teachers that weren't really the friendliest people in the world, that just handed me the information, and that was it," he said, "but the ones who really stuck with me were the ones who took the time to care, to listen, to ask me how I was doing."
Patricia said that film and television exist as artistic mediums to create change in others' lives. 
"I always tell my students, if you can create something artistically and it inspires just one person, then you've done your job," he said.
In addition to teaching, Patrica recently started a podcast called Silent Presence that he said is a little about his experiences, but mostly about others and professionals discussing mental health, grief, loss and addiction.
"Everyone interprets a silent presence as something different," Patricia said. "It could be the water running, flowing down a river, people in their lives that just sit there and listen without passing any judgement towards you or saying anything. Many times people think spiritually."
Patricia said that many people have already reached out after listening to his podcast, appreciative of the platform for different perspectives.
"It's important that we all have that silent presence in our lives to help us move forward,"   he said.
Though he teaches film and television, Patricia recommends getting away from televisions and screens. He recalled a simpler time where he rolled down hills in a refrigerator box as a kid.
"When you're inside a refrigerator box, or any kind of box for that matter, nothing outside matters, you're in your own little house," he said. "It's like setting up a tent in the middle of the floor in your home because you're suddenly not in your house anymore, you're somewhere else." 
Though he knows the majority of students that take his classes  aren't taking his class because they want to get into film, he said he knows they take it to experience something different and new.
To his students that are continuing in the field, Patricia offers one rule to success.
"Do what you love, it's really that simple. Don't get into filmmaking because you expect to be Steven Spielberg," he said. "But  if you love it, you're going to work for it, and if you work for it, you're going to do well."