Prism Concert for Purpose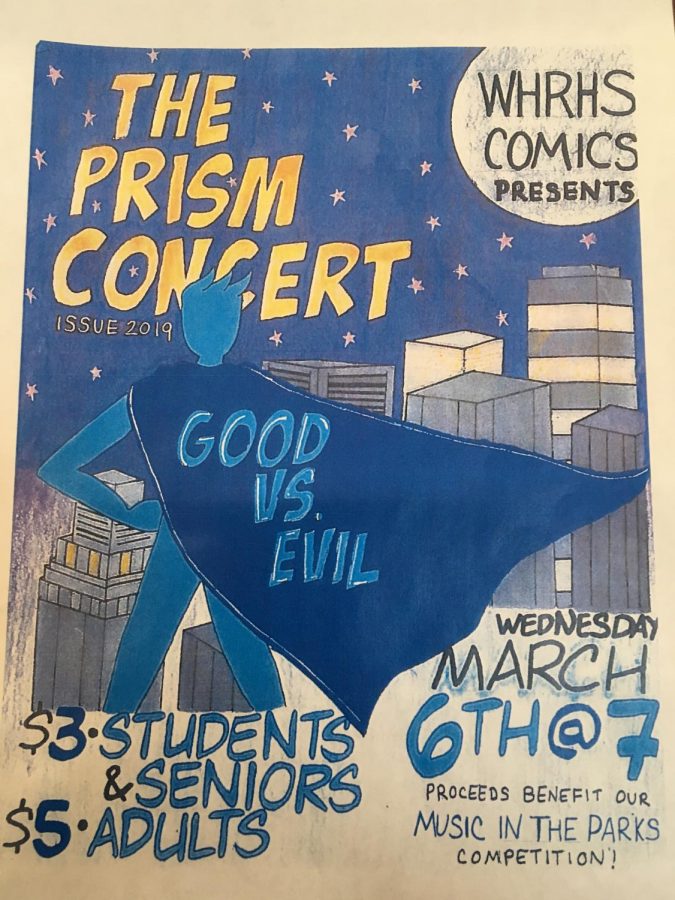 Warren Hills Band in early March hosted their annual Prism Concert run by Band Director Jason Graf to raise money for the group's trip to Music in the Parks in May.
Music in the Parks is a competition for both choir and band against other schools hosted in Hershey Park every year in which both of our groups have done well. This year's theme was good versus evil featuring the different band classes, some ensemble groups, and a preview of the musical The Addams Family.
The concert was broken up into five different parts: Wind Ensemble, Ensembles, Jazz Ensemble, Concert Band, and Combined Band.
Graf started the concert with Wind Ensemble performing the song, "Of Heroes and Demons," by Rob Romeyn, a blend of both good and evil, before greeting the audience and resuming to play more songs, such as selections from the musical Wicked.
The auditorium recently got renovated with a new lighting system which Graf used to his advantage to enhance the performances. During the selections of Wicked, the whole room turned green.
A majority of the pieces played by the ensemble groups were around the theme of good. One however just consisted of a dark theme, like The Addams Family.
All dressed in black, the cast of the The Addams Family gathered together on the stairs to perform the song, "When You're an Addams."
Following the ensemble performances was Jazz band, Concert band, and Combined band which played and ended the concert with good triumphing over evil with the selection, "The American Red Cross March."
The march was written in honor of the work of the American Red Cross during WWI. It had a patriotic sound with a fast-paced march that was much enjoyed by the audience.
Band and choir go every year to Music in the Parks and are a good time is always had by all. Wish them luck on their competition!