Runningback Duo Propels Hills to Playoffs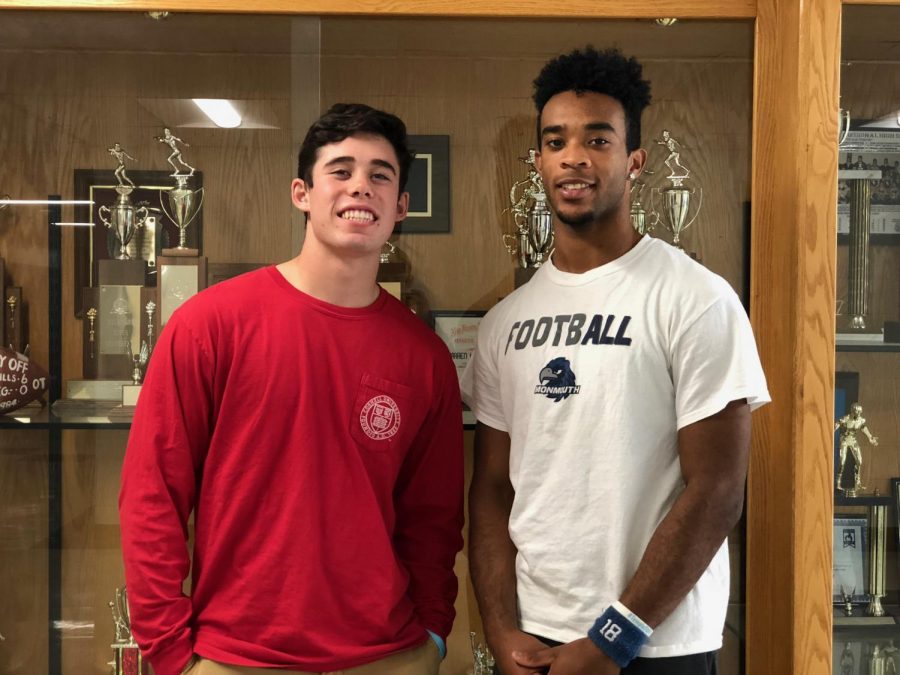 The 2018 varsity football regular season has turned out to be a pleasant surprise, ending with a journey to the playoffs, despite a 0-3 start to the season.  The senior running back duo of Zachary Hamilton and Sean Morris have been a key component in assisting the team to playoff glory. 
With Morris as the power and Hamilton as the finisher, the duo, alongside their team, raked out five wins in nine games. One of their most successful performances came in an away victory against Scotch Plains in which The Streaks triumphed with a score of 42-14. 
Their successes this season were rewarded when they punched a ticket to the playoffs in a win against rival Voorhees High School. 
Throughout the year, their names are a constant call-out on the loudspeaker, and here's what they have to say about the season:
How do you feel about your team's performance this year compared to previous years?
Hamilton: I feel that this season so far has resulted in much more success than previous years, as this is the first time in three years that we have made playoffs, and been over .500 exiting the regular season.
Morris: Last year we struggled a lot. We had a new head coach we had to adapt to and also a new offense to adapt to. We were also a pretty young group of guys, with the team mostly consisting of juniors. This year we have adapted to everything and made a lot of changes which caused us to be pretty successful.
How has your individual performance impacted the turn outs of the varsity football season?
Hamilton: I have played my hardest to do what's best for the team and accepted whatever role is assigned to me so that we can win games, as that is the overall goal.
Morris: I think my performance impacted the varsity season in a way that helps the team a lot. If one player has a good performance that means the others will want to rise their game to a better performance too. 
What were your thoughts on making it to the playoff game?
Hamilton: Making playoffs is beyond important to me. As a rather large and close-knit senior group, we have all talked of doing big things our senior year and bringing a state championship win to our program and community. Now we are in position to do just that. 
Morris: This is the first step we have to going to state championship. Our goal is to go to states and we have a great opportunity to go.  
What would you say are your team's strengths and weaknesses?
Hamilton: Our greatest strength is overcoming adversity. Multiple times this season we had been presented with conflicts which we had to overcome, and we did. The theme of facing adversity head on is one which has been resonated to us throughout the season from our coaching staff, and I believe it is the most crucial aspect of our success.
Morris: Our team strengths is our bond. The team has a great bond between each other.
As a graduating senior, what words/advice would you like to say to your underclassmen teammates?
Hamilton: To my underclassmen teammates I would like to say something you all have probably heard a hundred times from a hundred different people: it goes by fast. While this seems to be a very cliché thing to say, it is very true. Work hard and accomplish your goals before it's over. These are memories you will have forever.
Morris: I would like to tell the underclassmen to really give it all you got and be committed. 
In your opinion, what was one of your best games this season and why?
Hamilton: I believe that our game at Somerville was the best game we played as a team all season. Even though we lost at the end, it was by far the most hard-fought four quarters of football we played all year. We were the first team to beat them at half, a team ranked fifth in the state.
Morris: In my opinion, my best game this season was Somerville. Somerville was the fifth ranked team in the state and I went out there and gave my all. I did very well against one of the top football teams in the state and helped my team out a lot even though we lost.