Alumni Spotlight: Adesola Sanusi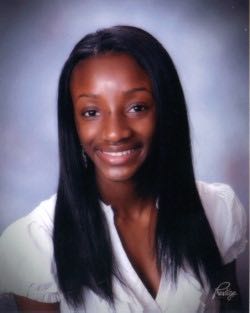 Warren Hills' GirlsCodingWithGirls founder Adesola Sanusi ('14) will be joining Google as an Associate Product Manager in New York City after graduation from Harvard University in late May ('18).
Sanusi, a Computer Science and Economics major, will be working at Google after completing internships with the company during the last two summers, first as an Engineering Practicum intern and then an Associate Product Manager intern.
Sanusi said her interests in technology, business, and product design led her to pursue a career in product management.
"My last internship at Google, I had the opportunity to do a career talk for Code Next, a Google initiative dedicated to inspiring young Black and Hispanic students to consider careers in technology," she said. "The talk was super heartwarming for me and the students. I had the opportunity to talk about my journey to Google and my experiences as a Black woman in technology. By the end of the talk, I realized how far I've come and how I could mentor and empower other students to take advantage of tech opportunities in the ways I did."
While at Warren Hills, Sanusi was involved in a variety of classes and clubs. Her favorite classes included AP Computer Science, Accounting I & II, and AP Chemistry. Sanusi was also involved in Debate Club, DECA, KEY Club, and Track & Field Team, but said her most memorable experience was GirlsCodingWithGirls.
"My most memorable experience at Warren Hills was coordinating and running GirlsCodingWithGirls, a middle-school computer science program," she said. "With the help of Mr. Detrick and other classmates, I was able to secure a grant from the National Center for Women in Information and Technology (NCWIT) and build a curriculum centered around Scratch and Finch Robots."
Sanusi said another notable experience was traveling to Atlanta for the DECA International Career Development Conference to represent New Jersey as the first-place winner in Accounting Applications.
"I met a lot of great students from around the country," she said, "and had a phenomenal time competing at the international level. "
Sanusi said another memorable experience was helping to coordinate Relay for Life through her involvement with National Honor Society.
"I had the privilege to serve as President," she said, "and really enjoyed putting together the event with peers and faculty."
Sanusi said she also enjoyed competing in the NJ State Bar Foundation High School Mock Trial Competition and attending Harvard Model Congress with Debate Club.
"These experiences were through the Debate Club and I really enjoyed working with Mrs. Giamoni," she said.
Sanusi credits her experience at Warren Hills in helping her realize her passion which led her to her success.
"My high school experiences allowed me to develop a good work ethic," she said. "During my senior year, I took AP Computer Science and realized that I wanted to major in Computer Science during college. My early exposure to technology led to my later career goals and decisions."