Library Hosts Respect Week Poetry Slam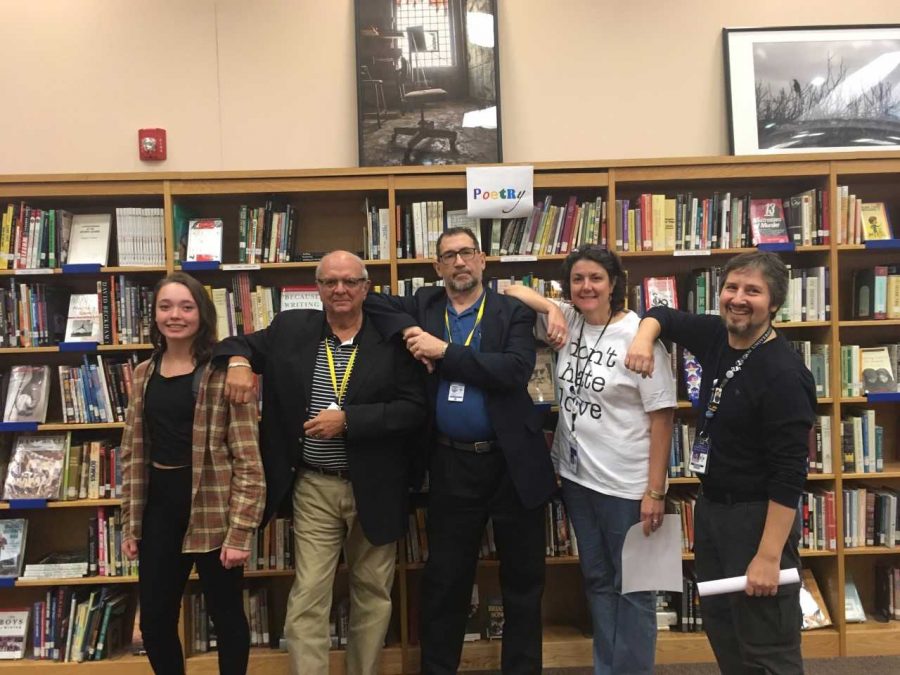 The first of the year's multiple Poetry Slams kicked off during Respect Week in mid-October, providing a way for students and teachers to express their thoughts on the day's theme of "Don't Hate Love".
The event's Poetry isn't just for the stuffy, beret-wearing silent types — whether it be falling autumn leaves or pop song lyrics, poetry touches everyone's life on a daily basis.
Maggie Devine, librarian and Gay-Straight Alliance (GSA) advisor said, "Typically, we don't have a theme," said Devine, "but when thinking of activities for Respect Week, I automatically thought of the Slam as it is a space to validate all voices, experiences and identities, making it a perfect fit into the week."
Divine said poetry can greatly reduce bigotry due to its ability to help understand others.
"Often, hatred will manifest when people no longer have their identity, feel less than, or feel dehumanized," she said.
English teacher and GSA co-advisor Kevin Horn, agreed.
"Writing a poem is an act of love," he said.  "It's a love for language, it's a love for yourself, and it's a love for other people — it's a love for life."
The relatability of a poem is, as Horn puts it, what makes poetry truly special.
"When you write a poem, you're writing about something universal," he said.  "You have this thing that's personal and yet you have this commonality with people that you're reading to. They can identify with what you're going through, what you're writing about and make it their own."
This commonality, agreed Devine, is what makes the Slam itself stand out.
"They may not always be your own, but by writing or sharing stories, you are putting a little piece of yourself out there and opening up communication and discourse with others," she said.  "I believe this gives a space to allow everyone to have a voice."
Phoebe Sessler, a sophomore at Hills, read at the Respect Week Slam for the first time.
About her poem, "The Universe's Confused Pocket Lint," Sessler said, "I feel like when you write something you're putting part of yourself on the paper. A lot of people in high school are afraid to show their true selves because people can hate, make fun, and make you feel bad about sharing yourself."
Sessler agreed that reading and writing poetry can help a person understand themselves and others, saying it's what inspires her to write.
"Sharing poetry is a really personal thing to do and I understand that, but I think it can help other people with their personal identities and make them realize things about themselves," said Sessler.  "If everyone shared how they really felt, then everyone would know that we all think kind of the same.  Even though we all have different opinions, we all have the same goals."
Although Sessler was the only student to read at this Slam, the podium is open to all, said Devine.
The next Poetry Slam will be held in the library at lunch during the week before winter break.
To those on the fence about going, Horn said, "Just know that everybody watching you wants you to succeed and to do well when you're reading. We want to hear what you have to say. It's a magical feeling when you're done reading — it's like you're walking on air — so I think everybody should definitely come and share something.  It's okay to feel vulnerable for a little bit — get outside your comfort."