Student Creativity Featured in Extended 2022 Art Showcase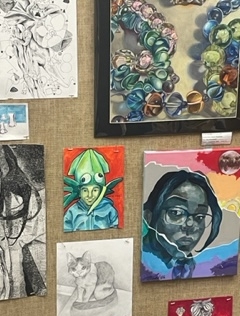 The Warren Hills Art Department hosted its first in-person art showcase in two years, from May 10 to 13 in the Warren Hills Regional High School Library.
Due to COVID-19 restrictions, showcases over the past two years had been virtual. The 2022 showcase was held in-person due to the loosening of pandemic-related restrictions.
To launch the showcase, a public reception was held from 5:30 to 7:30 p.m. May 10. It was open to the community to view students' work.
This year's art show showcased Mixed Media Arts; Ceramics; Advanced Ceramics; Graphic Arts I and II; Visual Arts I, II and III; Foundations of Art; Adaptive Art; Studio Art; Yearbook; and Film.
In previous years, the Warren Hills art showcase had been held in the school's cafeteria, but such an arrangement did not give people time to truly appreciate students' creations. The space was shared with the Band, Choir and Wood Technology.
"The set-up would take entirely too long, then was quickly followed by the art show, and soon came the breakdown" of the exhibition, said Vittoria Sigona, the Visual Arts III and Advanced Placement (AP) Studio Arts teacher. "We decided this year, and as a department, that our students work entirely too hard on their artwork to only leave up for three hours. We would like their hard work and talent to be acknowledged and visible for a longer period of time by our students and staff, which is why we decided to ask Ms. [Library/Media Specialist Margaret] Devine and Ms. [Library Assistant Bela] Shaw to 'host' us in the library for the week."
Film teacher Richard Patricia featured 20 of his students' films at the event, including several award-winning films from this year.
Throughout this school year, Nicole Clark, Visual Arts I, Ceramics and Adaptive Arts teacher,worked with her students to choose which of their pieces they would like to feature in the showcase.
Some of the projects showcased included Potter's Wheel projects, pinch pots, emoji projects, grid drawings, still life, pointillism drawings, mosaic drawings, cross stitch and water lily collages.
"I was focused on how I'm using my colors and making the glass look realistic," said sophomore Marko Tasevski, who submitted a pastel project. "Also, how to make the glass look realistic."
When asked how he felt about his work getting placed in the showcase, Tasevski said, "It feels special and inspiring."
Senior Abigail Savage is the only student in her AP Studio Arts class. Her theme this year was "Light" and how it enhances or diminishes the details of a piece. Savage submitted five of her pieces to the showcase.
"I love to be a pain to my teacher, in the best way possible, and I love when we have relaxing classes where we watch movies while we work," Savage said about her creative process. "I'm kind of sad that this is my last one at Warren Hills, but I was also excited to see all of the work everyone has created this year."
When asked about how the showcase went overall, Clark said, "I think it went really well. It was the first year we put the show up for an extended amount of time. We received lots of positive feedback from students and staff about it."