Shurmur: A Giants Story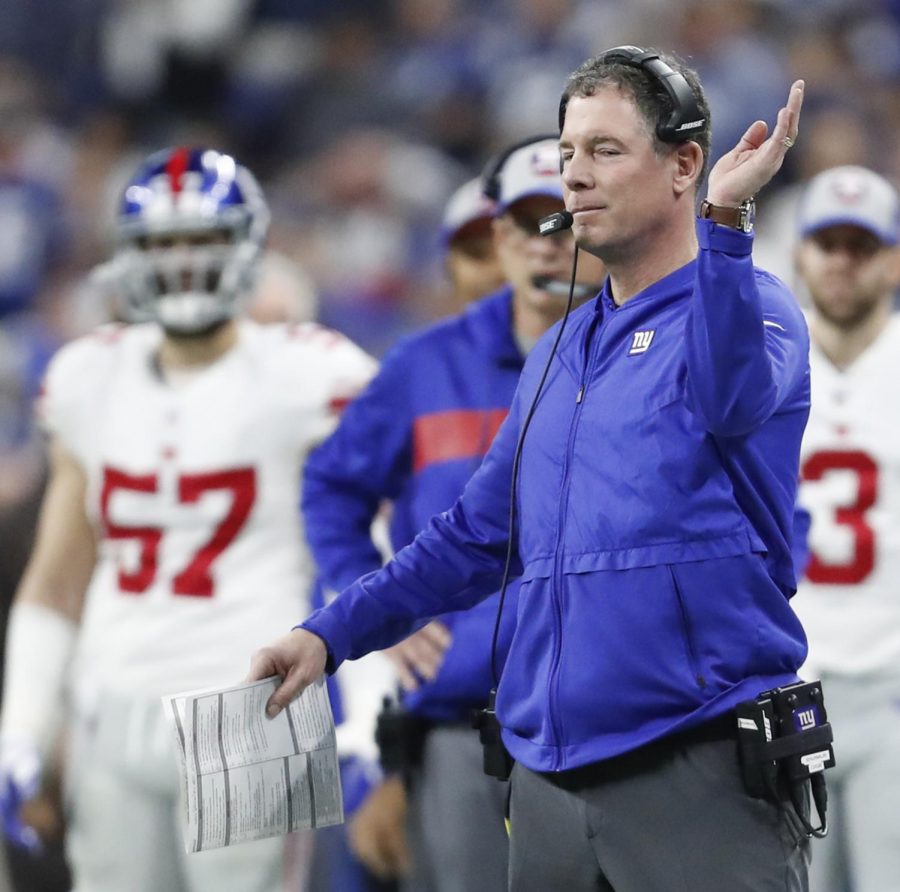 The New York  Football Giants sucked this year. And last year. And the year before. This organization made the correct decision in not waiting on Pat Shurmur and his coaching staff to deliver and start winning games. This choice to fire the coaching staff is especially important to the hundreds of pro football fans at Warren Hills who favor the Giants due to their stadium's close proximity to our area.
Defensive coordinator James Bettcher is overhyped. Special teams coordinator, Thomas McGaughey, has no communication with Shurmur. He did not even know late this season that long-time long snapper Zak DeOssie had landed on injured reserve (IR). How do you not let your coordinator know when a player from a position group he coaches has landed on IR?
Shurmur may be a great offensive mind, but only when his responsibilities are limited to offensive coaching. This is evident with his success as Case Keenum's coordinator during his breakout 2017 campaign with the Vikings. This is essentially what got Shurmur the Giants head coach job. He is suited to operate only in a limited capacity, as proven by his failed time as head coach of the Browns and by his successful period with the Vikings as offensive coordinator. Another failed run as head coach of the Giants further proves this, with a severe neglect for communication amongst the staff and players.
A good head coach will win games even with the below league average level roster that was created for Shurmur. Shurmur managed just nine wins through 32 contests with that roster. What's even worse is that his win total decreased in his second season as coach. That's completely unacceptable, especially when the roster was better on paper this year.
The offensive line had three out of five positions filled with legitimate NFL starters; that was up from two, if not one at times, during the 2018 season.
On the other side of the ball, the interior defensive line, which was already the best part of the team, improved drastically once again. But, the issues on the defensive side of the ball lie more with defensive coordinator James Bettcher than with Shurmur, as Shurmur is as offensive-minded a head coach as it gets.
The defensive struggles have been more than evident. Established veteran safety Antoine Bethea often looked lost on the field this season, and it was not just him. Players failed to communicate their coverage assignments in a secondary that, on paper, should not have been as bad as it was.
The peculiar thing was, once defensive cornerstone and key piece in the Odell Beckham Jr. trade, box safety Jabrill Peppers, went down with a transverse process fracture injury late in the season and number one corner Janoris Jenkins was waived after over two years of insubordination with the organization, the secondary looked improved and sort of functional for the first time since before Shurmur and Bettcher got there.
Did Bettcher improve in his coaching? Probably not. What we probably saw was personal improvement from the players and the team playing against much weaker offenses than they saw in the beginning of the season.
Add that to trading for star interior pass rusher Leonard Williams, and that is the exact recipe for perceived improvement. Williams graded out with a 76.5 overall defensive grade with the Giants after having a measly 61.5 PFF grade as a Jet. Rotational interior lineman BJ Hill quietly improved from a fantastic rookie campaign and was arguably the team's best defensive player with a PFF grade of 75.9, including an elite performance against the Lions. But, even that could not save Bettcher and Shurmur.
These two coaches experienced minimal success and rode off of having good references from prior jobs into getting the hire with the Giants. Bettcher rode off of an amazing Steve Wilks Cardinals defense that he inherited and never put his own twists to. Shurmur led Keenum on a Vikings team where offense was his sole responsibility. Shurmur is prone to being out-coached no matter what; he proved it time and time again with the Giants.
The Giants made the only decision they could in firing this underachieving coaching staff.