Potter Shares Her Playbook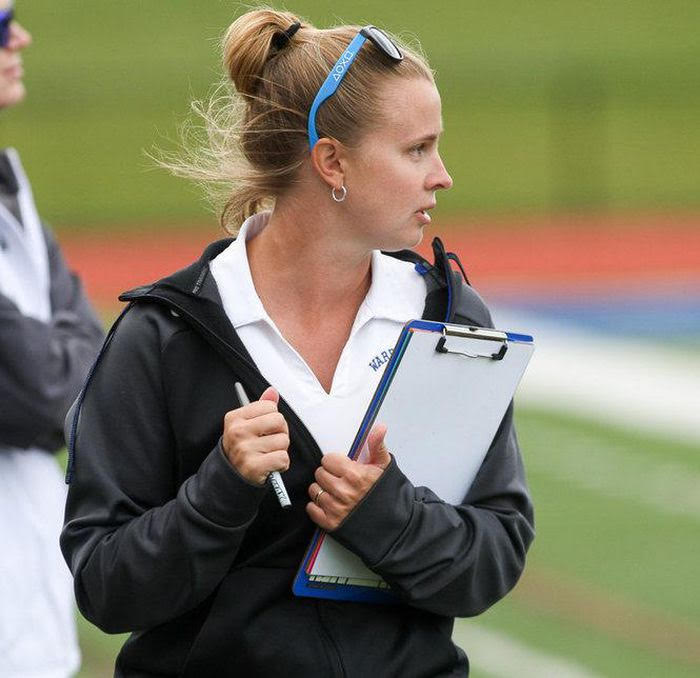 With a long history of division wins, Warren Hills' Field Hockey program has had its share of quality coaches and Josephine Potter is no exception.
Potter, who also serves as an Assistant Track and Field Coach, said she playing field hockey for the Washington Township program at the age of seven, and she ran track to stay in shape and hang out with some friends.
While attending Warren Hills High School Potter played field hockey and ran in track and field. With all of her field hockey accomplishments it earned her a spot of the Wall of Fame.
She continued her field hockey career at East Stroudsburg University, where she played almost every position.  Also during Potter's sophomore year her team made it to the NCAA DII finals for the first time in the school's history.
Before coaching varsity field hockey, Potter coached JV field hockey for eleven years. Potter has now been coaching varsity field hockey for three years and has been coaching jumping for track and field for six years.
Potter said she coaches different types of athletes and enjoys seeing how they push themselves throughout the season.
"My favorite thing about coaching is seeing athletes pushed outside their comfort zone, rising to the challenge, and excelling," she said. "That doesn't always mean winning, it means growing as a person and as an athlete."
Potter said she focuses on different things as the season continues.
"Every season I look to have the most success with my athletes as I can.  It changes between the sports I coach and the teams I have," she said. "I look to improve in every contest and fix the things that didn't work in the previous game or meet."
Of course, there are pros and cons in coaching and Potter shared hers.
"Some pros are developing great relationships with great people and student athletes, and watching athletes grow into amazing people on and off the field, encouraging people to grow as individuals and as a team, and having an opportunity to mentor others," she said. "Some cons are that it is a big time commitment, especially if you're coaching a team that has success, such as playoffs, states, and Meet of Champions, and it's a lot of time away from my family."
Still, Potter remains committed to her sports and offered some advice for the student athletes who are looking to continue their athletic careers in college.
"If you are looking to continue your athletic career after high school, make sure you find a good fit," she said. "If you want to continue your athletic careers, remember there is a school out there for you."