Students Take Steps to Create Dance Club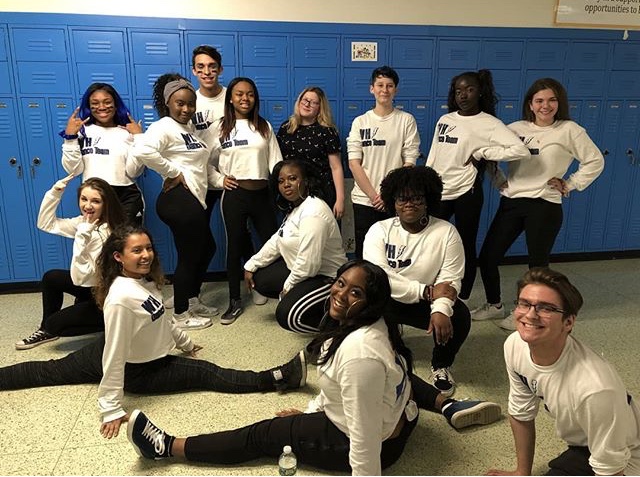 A group of Warren Hills dancers recently grouped together to form a new club centered around their passion.
Starting off the new year in late January, the Warren Hills Dance Club officially began, with practice in the gym during lunch on Days One and Two. The club was created by four of its leaders— seniors Hellen Andwati and Felicity Flermius, and juniors Deja Mitchell and Leandra Fields.
Before they could even get the club together, the leaders had to go through weeks of interviews and planning with Athletic Director Michael Jones. 
"A group of students came to me in regards to creating a dance club," he said. "The process for starting clubs here at Warren Hills is going through a one-year probationary stage to see how many participants are involved in their club. If there is a large amount, the next step that we go into is to look for a teacher that would be the head of the club."
Following the traditional process of starting up clubs at Warren Hills, Jones said that there's approval from the Athletic Office to run Dance Club once or twice a week until next year.
"After that, we will then decide if the club will turn into a team or anything bigger with all the participants in the group for next year," he said.
Jones said the process of starting up the club took about a month, as there were various questions involved.
"We also had to make sure that we had a teacher that could supervise this club, and Mr. Hickerson was chosen," he said.
All the leaders said they have been interested in dancing since an early age, whether they pursued it professionally or not.
"I'm a self-taught dancer since my childhood," said Andwati. "As long as I could remember, my sister inspired me with some dance moves and I started watching Youtube dance tutorials."
With such a passion for dancing, they all jumped at the chance to create a new dance club at Hills.
"I've always wanted a dance club at Warren Hills, and I've always loved to dance," said Flermius. "So, we just thought, why not?"
To get everyone pumped up and ready to dance, a typical practice starts with everyone freestyle dancing to music.
"Our practices are energetic and very hype, and usually there is a lot of commentary," said Fields. "We are always moving, working, and having fun."
After working on their routine for several weeks, the club had the opportunity to dance in front of an audience at Mr. Warren Hills in late March.
"It went really well, and the crowd was excited to see us, so it was better," said Mitchell. "I wasn't expecting so much cheering for us."
Following the event, the club was requested to perform at a scholarship dinner for NAACP at Hawke Point.
"The performance was absolutely amazing. Everyone was completely in sync and the vibe was fun," said Flermius. "I feel like it was more special because we were requested to perform. A few of us stayed for the rest of the dinner, and it was really fun."
Mitchell said that the club will be hard and members will need to practice out of school and dedicate time to learn the dance, but overall it's a fun time and worth it in the end.
"You don't have to know how to dance. You just have to be willing to learn," said Flermius. "A lot of people who didn't think they could dance are in the Dance Club, and they are killing it. So just step out of your comfort zone and you never know, you could be in the Dance Club next year."