Kablis Reflects on Boys Lacrosse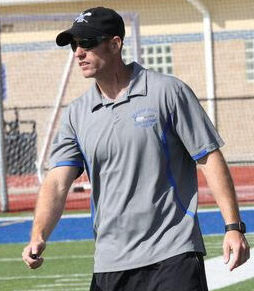 The Boys Lacrosse Team is now looking back on a memorable season, having been led by Head Coach Patrick Kablis.
Kablis has worked for Warren Hills since 2012 as both a soccer and lacrosse coach, as well as teaching Health and Physical Education for eleventh and twelfth graders. Over the years, his experience both in and out of the classroom has been both unique and exciting.
"I always wanted to work in a high school where I had the ability to not only teach Health and Physical Education, but also be involved with students outside of the classroom doing things such as coaching lacrosse and running the weight room after school," said Kablis.
Once he had arrived at Hills, Kablis says he knew it was the place for him.
"I have always felt that Warren Hills had a sense of family that has made it so that I've never wanted to work anywhere else," he said.
Fast forward about seven years from then and he led the Boys Lacrosse Team to the playoffs in their 2019 season. 
Senior Owen Healey described the team's feeling before the game.
"Going into the playoff game, we were nervous but ready to play. We were excited to play a team that was a tough competitor. Playing tougher teams only makes us better," he said. "Kablis is an amazing coach.  He always has faith in us and takes his time to make us better."
Kablis' coaching clearly paid off; Healey, specifically, led the team by scoring 39 goals this season.  He plans to continue his athletic and academic careers at Caldwell University this fall.
  The team, unfortunately, could not advance to the next round of competition, but Kablis says he is still proud of what they accomplished.
  "We had a great team with a lot of senior leadership.  We faced some tough losses, but also pulled out some big upsets," he said. "My best memory was watching our students develop and achieve their goals."
With the 2019 lacrosse season in their rearview mirror, Kablis is now shifting his full focus back to teaching.
"I enjoy teaching the juniors and seniors since I get to see them begin their next step in life," said Kablis, "and then develop a plan on how they will take on the next few years."