Boys Tennis Back on the Ball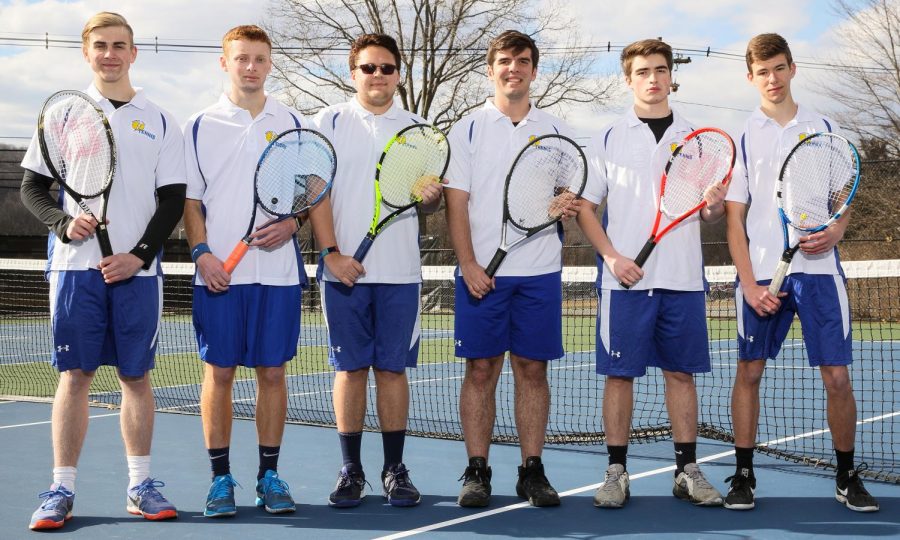 After multiple years of mediocrity, the Boys Tennis Team has rebounded to establish themselves as a force to be reckoned with.
Led by seniors Jason Teets, Justin Mahoney and Ryan Johnson, the team put in work during the offseason and built themselves a well-rounded squad from the top to the bottom of their lineup.
Juniors Danyal Khan, Adam Stanneck and Daniel Pitsch look to continue the success as they are among the most talented players on the court, despite not being seniors.
Throughout the season their names have been heard during the morning announcements, as they picked up wins and finished 9-6 in district and 9-7 overall with the help of Coach Julia Henning. It is clear that their success deserves more attention.
"It feels good," Teets said.  "We've had small tastes of success in my time on the team, but this is the first year we've really got to be a dominant team, to be the team other people don't want to play for a change."
Teets also expressed how impressed he was with the team in their winning of their division of the Skyland Conference.
"Winning our division of the Skyland Conference this year was really a big accomplishment," he said.
The team had every court reach the quarterfinals of the Hunterdon-Warren-Sussex Tournament, which was also quite impressive for the squad that was not expecting such success.
Teets also offered some advice to his underclassmen teammates to continue the team's success next season and beyond.
"Just play a lot against the best people you can find," he said. "There is no substitute for experience against strong opponents."
Khan and Stanneck each made big strides on varsity this season, leaving their marks on the court as first doubles partners.
The seniors developed together, and Teets, Mahoney and Johnson each held a spot in the top three singles courts.
"Freshman year I was one of the last players on varsity," Teets said. "We had a 2-14 season and were always just short of the win.  I have been first court every year since, and have gained new experience and improved just a little year by year.  Having all our singles players returning this year, we were able to put that experience to use, winning matches."
A strong example was when Teets and Johnson each won their matches in straight sets against North Plainfield in April. Mahoney won his singles match, as well. Doubles partners Khan and Stanneck and senior Alexander Fazzari and  sophomore Taylor Cheung both won their matches to sweep all the matchups.
The team has quietly become one of the school's better sports this season and there seems to be more to come, despite their top players graduating.
"I'll miss the camaraderie," Teets said. "Being part of a team and being able to hang out with the guys every day for several months every year is always fun and I don't know if I'll have something like that in college."