Discus Thrower Breaks School Record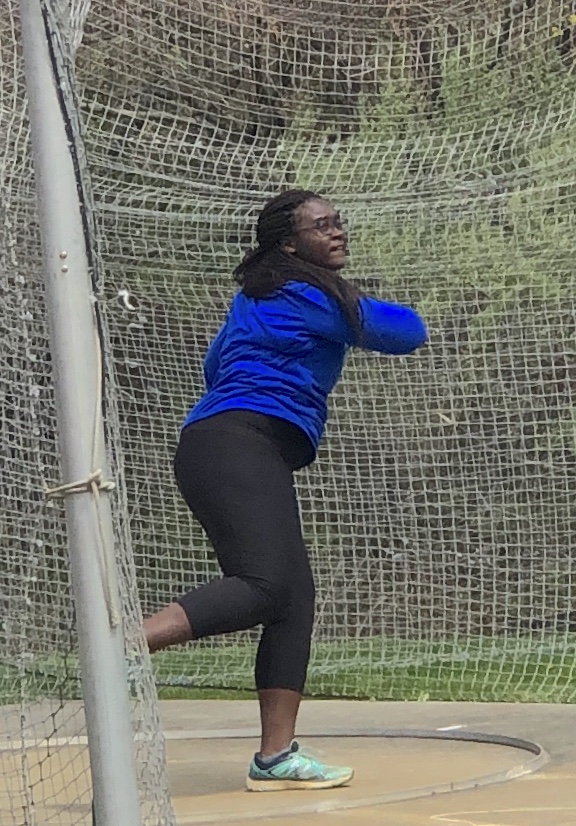 What high school athlete ever thinks of breaking the school record for their sport? In April, and then again in May, sophomore Eniola Ajayi did just that when she broke the girls' school record for discus throwing in track and field.
Ajayi broke the previous school record of 103 feet and 10.5 inches by throwing a distance of 105 feet and 7 inches while throwing at a dual meet at Bernards High School, on April 23, 2019.
She then again threw a new record of 111 feet and 2 inches at the Skyland Conference Championships on May 7, 2019.
Ajayi has been throwing discus for the Warren Hills Track and Field Team for two years, and said it was her sister who inspired her.
"I was inspired by my older sister, Mini, who was actually a thrower herself when she was in high school," she said.
Ajayi said she thought it would take a bit longer to break the school record.
"I did think I was capable of breaking the record, especially after throwing 102 feet at the Metuchen Relays," she said. "I just thought it would take a bit longer than it did."
Ajayi said that there is a lot of work of preparation that goes into discus throwing.
"Besides throwing at practice, we do a lot of core workouts and footwork technique to help our movement in the circle," she said. "And we go to weight room once a week to work on strength building."
After breaking the school record for the first time and then breaking it again, Ajayi said she felt a range of different emotions.
"I felt so many emotions at once. I was nervous the entire time, but excited after I heard the official say '105 feet and 2 inches' because I honestly didn't believe I would beat it that soon," she said. "The strongest feeling was definitely relief because it felt really good to know that I was able to accomplish that goal and I felt like I could finally breathe again."
With the newly earned status, Ajayi is determined to keep breaking records. 
"I am beyond determined and really motivated to keep breaking the record again since I still have two years left of high school and already broke the record a second time," she said. "Plus, I know Coach [Michael] Howey will always be pushing me to be the best I can be."
At this point, Ajayi isn't sure whether she will further her career as a discus thrower into college, but she's leaving the possibility open.
"I haven't really thought about it, but it would be nice to continue to throw in college because it's fun to push yourself and I think that having one thing outside of school is a good way to reduce stress," she said.
In the meantime, Ajayi said she looks forward to pushing herself the next two years.
"The best part about being able to accomplish this goal my sophomore year is that I have the opportunity to continue to push myself and hopefully break my own record in the years to come," Ajayi said. "It's also really exciting to have my name put out there and continue to put Warren Hills on the map."