Harvard Model Congress: An Inside Look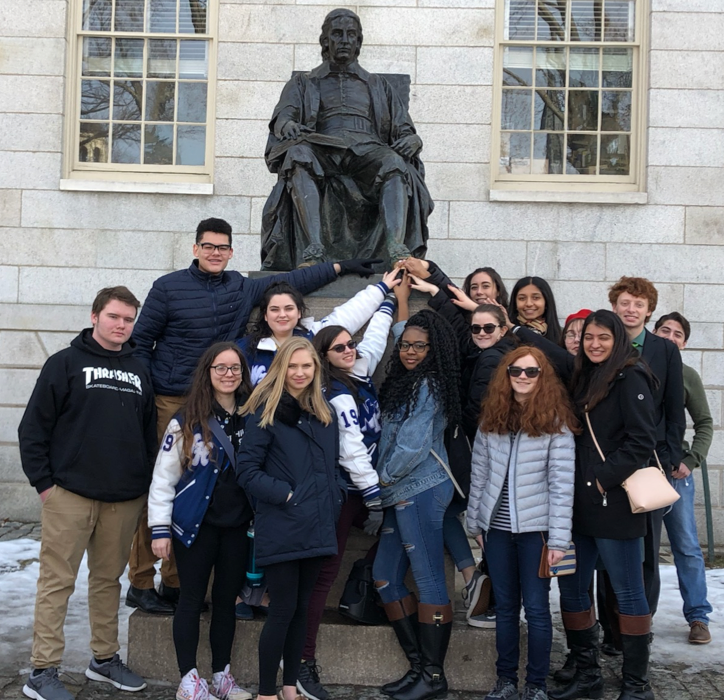 Warren Hills' Debate Team yet again participated in Harvard Model Congress (HMC), the largest congressional simulation in the world that allows high school students to experience how our government works. 
In late February, I attended HMC in Boston, Massachusetts, along with 14 other debate members. The trip did not go as expected.
Students were supposed to arrive at the school at 4:30 a.m. in order to catch the 5-hour train ride and reach the conference on time; apparently Mother Nature was not feeling it that day and decided to make it snow, causing a two-hour delay. Now, this may sound like a dream to any other student, but the Debate Team felt quite the opposite.
Imagine the "Home Alone 2: Lost in New York" scene when the McCallisters are running through the airport to catch their flight. Replace the McCallisters with the Debate Team—that's what happened at the train station (we have Mother Nature to thank for that again). We dramatically ran with our luggage through the train station to catch our train.
We finally arrived in the late afternoon, and once again, rushed to the hotel. The Warren Hills Debate Team then rushed to get changed into business attire so we could go into committees, but our efforts weren't really worth it. Why, you ask? Let's just say that we arrived "fashionably late."
We were amazed to see the variety of congressional committees and programs that HMC offered. In committee, we all worked to pass bills based on the congressperson they represented and on the topics their committees deal with. It was especially interesting to see the depths that participants went to in order to imitate the ideas their congressperson represented–especially if it was the total opposite of their own ideologies. The Debate Team represented congresspeople from committees such as the House Special Committee on Intelligence, Senate Committee on Oversight and Reform, and special groups, such as Media. 
The four-day conference also had a tentative schedule to ensure that students could do the most they could with the time they had. We usually started our meetings at nine in the morning and ended at ten at night. It sounds stressful, but time flew by while we were busy debating and drafting and passing bills. 
One of the most memorable parts of the conference was when we were able to explore the Harvard University campus and sit in on classes for a few hours, as part of Harvard Day.  
The conference coordinators filled the last day with surprises as students were expected to carry out actions in time of national emergencies. Committees also got visits from "leaders" such as Vladimir Putin, the Russian president, and Xi Jinping, leader of the People's Republic of China. The last day was filled with laughter and smiles, as we tried to deal with stressful situations and face how government representatives feel in times like these. 
To conclude the conference, all HMC participants and advisors joined together for an award ceremony to recognize students who stood out in their roles. 
HMC not only taught us a lot about congressional procedure and how the government works, but also what it takes to be involved in the government and try to solve problems in our country, while representing the citizens' interests as well.