Local Girl Scout Troop Still Strong After 13 Years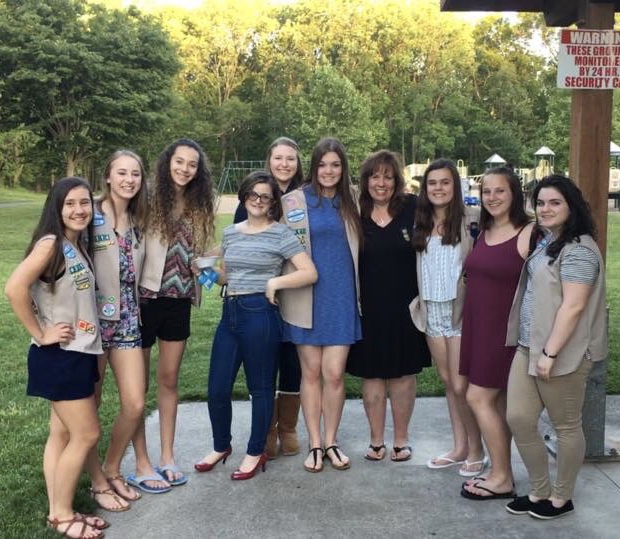 Megan Gill and Brianna Reidmueller
February 8, 2019
"A Girl Scout is ready to help out wherever she is needed. Willingness to serve is not enough; you must know how to do the job well, even in an emergency." -Girl Scouts of America.
This motto is used by Girl Scouts across America. Many girls involved in Girl Scouts drop out around the age of 11, but ten girls from the Warren Hills area, in Troop 95114,  have stuck with it for all 13 years, growing and becoming friends.
Nine of those girls are seniors at Warren Hills Regional High School, and the tenth is a senior at Warren County Technical School.
The troop has done plenty of things together, including community service, group trips, and much more.
Leader of the troop, Patricia Smith, of Washington Township, has been a huge part of these girls' lives. She has been with them since the girls were Daisies (kindergarteners) and has watched them grow into self-sufficient adults.
"She's like a second mother to me," senior Jessica Smith said. "I've spilled so much food in her car."
Mrs. Smith said that the most memorable thing about being the troop leader was, "Watching them grow up, and stay together.  Even though they're not best friends outside of Girl Scouts, when they get back together as a troop, they're great friends."
Senior Grace Kohansby is one of the members that went for her Silver Award, and she was able to help organize and carry out a 5k run.
"My freshman year I did my silver award where my friends and I did a 5k," she said. "We were in charge of running it."
Kohansby also expressed how excited she is to graduate and move onto bigger things using what she learned in Girl Scouts.
"I'm really excited to graduate," she said.  "I just want to go to college already."
Senior Emily Brundage has been friends with Jessica Smith and Kaitlin Smith since she was young, and she said it was their parents who helped convince her to join the troop.
"I was friends with Jess and Kaitlin, and her mom was the leader our troop," she said, "so it was their parents that let me know that it was happening."
Brundage talked about how their troop does a lot of community service, which has helped her learn new skills.
"We do a lot of community service and we help out with younger Girl Scout troops," she said. " I've learned to be a better leader."
The girls and Mrs. Smith are looking forward to their final trip, a cruise to Bermuda that many of them have been planning for a long time.
Senior Sydney Thompson expressed what else the troop has in store, and says that she has learned so much from her time in the troop.
"In June my troop will be bridging to adults, and you're technically a Girl Scout for life at that point," Thompson said. "I'll be able to take the skills that I've learned in girl scouts and apply it to my life. I also know I'm always a part of that group."