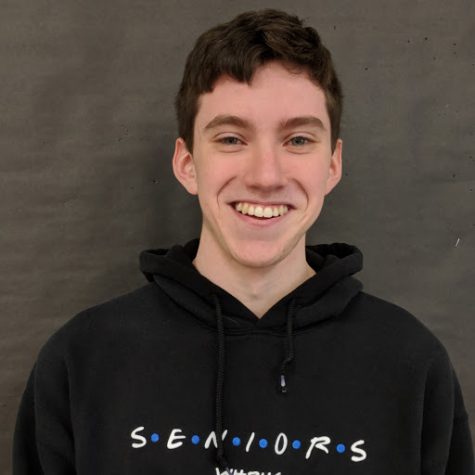 David Zimmermann is a senior at Warren Hills Regional High School. Last year as a junior, David started writing for the school newspaper,
The Streak
, as a staff reporter. He loved his first year so much that he decided to come back for a second. He now serves as the Arts & Entertainment Editor on
The Streak
staff. In 2018, he was awarded second place in Newswriting out of all Division B high schools in the state of New Jersey for his article "CrossFit Comes to Town." Besides writing for the newspaper, David is not heavily involved in any other extra-curricular activities this year because he wants to focus more on his academics, prospective colleges, and potential career paths that he is interested in. Outside of school, David loves to watch movies and TV shows on Netflix, and he goes to the local movie theater any chance that he can get. Besides watching a good story, David is obsessed with all things superheroes, including superhero movies. When he isn't writing articles or watching films, you can probably find him listening to his favorite band, Imagine Dragons, watching trailers over and over again on YouTube, and working at Dunkin'. After high school, his future plans involve going to college for a major in communications. At this point in time, he does not know what aspect of communications he wants to major in whether it be journalism, film, public relations, or a mixture of all three.
David Zimmermann, Arts and Entertainment Editor
Jun 11, 2019

Jackson Brings Home a Freddy!

(Story)

Jun 06, 2019

Endgame Does 'Whatever It Takes'

(Story)

Apr 04, 2019

Editors' Debate: LGBT Education: Yay or Nay – Con

(Story)

Feb 11, 2019

Stan Lee Leaves Behind a Marvelous Legacy

(Story)

Feb 08, 2019

STEM Alumni Return

(Story)

Nov 15, 2018

Venom: A Chaotic but Enjoyable Mess

(Story)

Nov 15, 2018

Film Insider Takes Students Behind the Scenes

(Story)

Nov 15, 2018

Hills Implements Chromebooks Into Classroom

(Story)

Jun 08, 2018

Pedals For Progress Sets Record

(Story)

Apr 09, 2018

CrossFit Comes to Town

(Story)

Nov 17, 2017

The Show Must Go On

(Story)